I think it was about 8th grade when my daughter began to enjoy writing stories on her own, that I realized I had made some erroneous assumptions about her spelling abilities. It wasn't completely unnerving, just a little wakeup call for her teacher.
We were homeschooling pretty much eclectically (using materials from different sources to teach a subject or subjects), I had tried a variety of workbook approaches with spelling exercises. I even enlisted the help of a few 'freeware' software programs, fed lists of spelling words into them to generate word search and crossword puzzles hoping to make spelling 'fun'. She saw it as so much busy work and had little interest. Because she was an excellent and dedicated reader, I had decided not to worry about it. Whoops!

Once that gaping gap was discovered however, I knew I needed to take this subject more seriously. Perusing my catalogs, I came across Kathryn Stout's

'Natural Speller'

, liked the review and decided to give her approach a try. It was a great move. Here is how we used it:

1)

Natural Speller

provides spelling lists of the most important words to know for each grade level (Gr. 1-8).
2)

Starting with Grade 1, even though my daughter was in 8th grade, I read each word aloud and she spelled it back to me
3)

We covered about 20 words each day, and she was able to sail through the first several grades in the first week giving her a great sense of accomplishment.
4)

When she began missing words, she wrote each one in a notebook along with a sentence that showed me she knew the meaning of the word. If she didn't know the meaning, she was required to look up the word in the dictionary and copy down the meaning and then use the word correctly in a sentence.
5)

Once she had accumulated 10 missed words, I asked her to do some of the suggested activities in Natural Speller with each word, giving her a choice of which she wanted to do. Her goal was to master spelling not only the word itself but also its variations.
6)

When she felt she had mastered all 10 words, I gave her an oral or written quiz. Words she knew where checked off and words she missed, if any, were written at the beginning of a new list.
7)

As each grade level was completed, I gave her a review test either written or oral on that grade.
By the end of the school year, she had mastered all of the spelling words in

Natural Speller

and learned the basic spelling rules as well. From that point on, I only had her work on the spelling of words she misspelled in compositions and reports. No busywork!
I highly recommend

Natural Speller

by Kathryn Stout of Design-a-Study, not only for remedial spelling help but also to teach spelling from first grade onward. You can learn more about it and see Kathryn's other study guides by clicking on the picture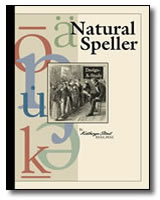 Blessings,
Kathy D.